Learning / PK-12
Cajon High School
San Bernardino, CA
San Bernardino City Unified School District
Awards
2022 Honorable Mention, Learning By Design
2022 Project In Design Jury Award, California's Coalition for Adequate School Housing (CASH)
2021 Merit Award, AIA Los Angeles
Education is continually evolving. Today's collaborative approach is characterized by learning communities, project-based work, the latest technology, and personalized instruction to meet a range of needs. Facilities now must be engaging and interactive to encourage and support diverse learning styles.
Imagine a school where students are empowered, nurtured, and challenged to grow. Imagine a campus organized around a dynamic center where people gather, recharge, and dream. Cajon High School's infill/replacement project rethinks the campus to emphasize the importance of social and environmental connections in education. The area between two existing buildings is excavated to the street level, creating an outdoor "canyon" that serves as an arena for diverse, collective, and social activities. Where the interior and exterior were previously separate experiences, a new unifying, open-air roof redefines the core as a dynamic, sustainable, shared space in touch with its high desert setting. Welcome to Cowboy Canyon.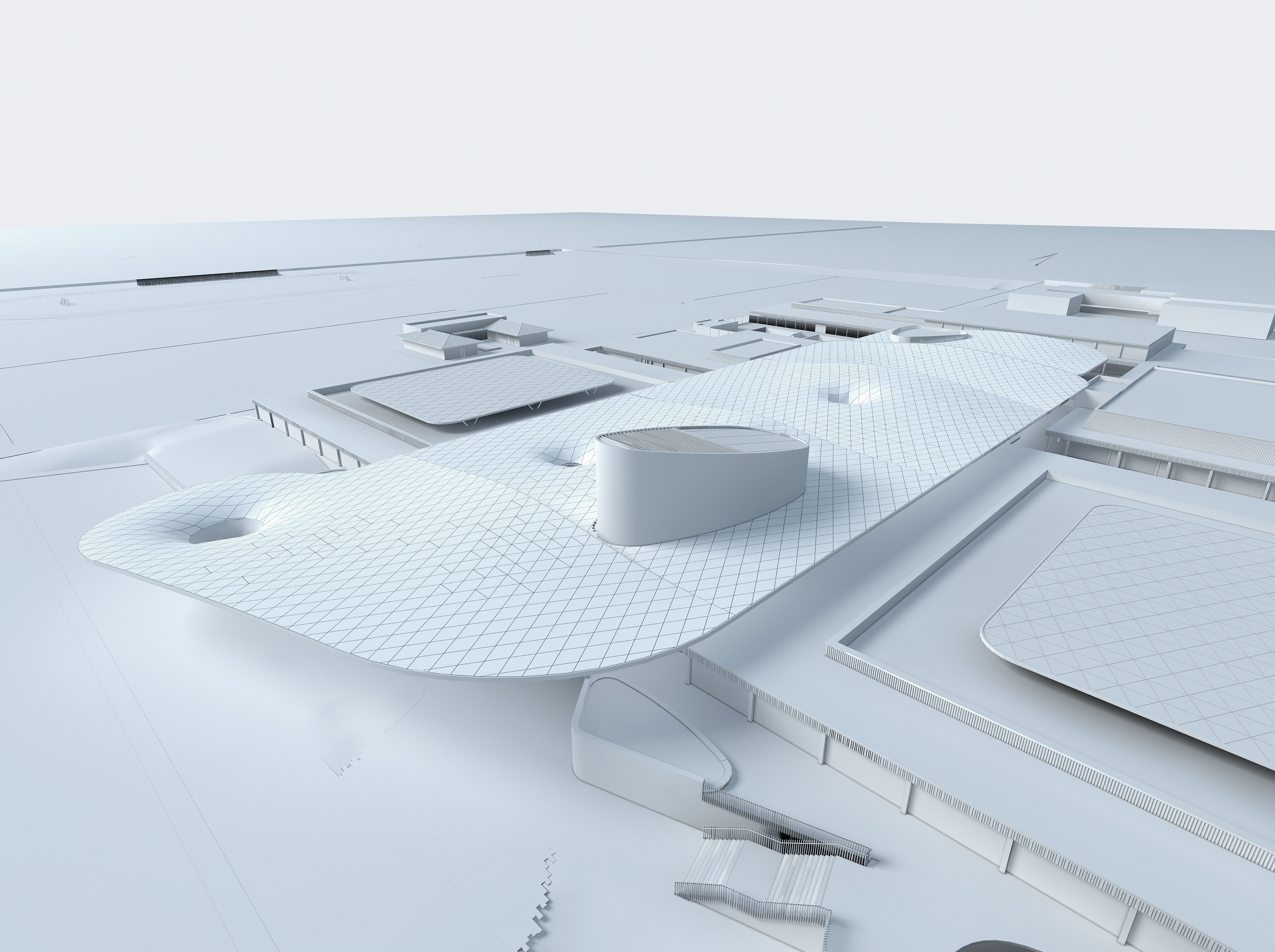 Redefining boundaries for dynamic spaces
The new project conditions a long-term transition to a new campus vision for a school with almost all existing classrooms housed in internally circulated, windowless structures. Given a project site constrained by existing buildings, a central quad, and the campus edge, the design blurs edges and disintegrates thresholds to create a new educational DNA.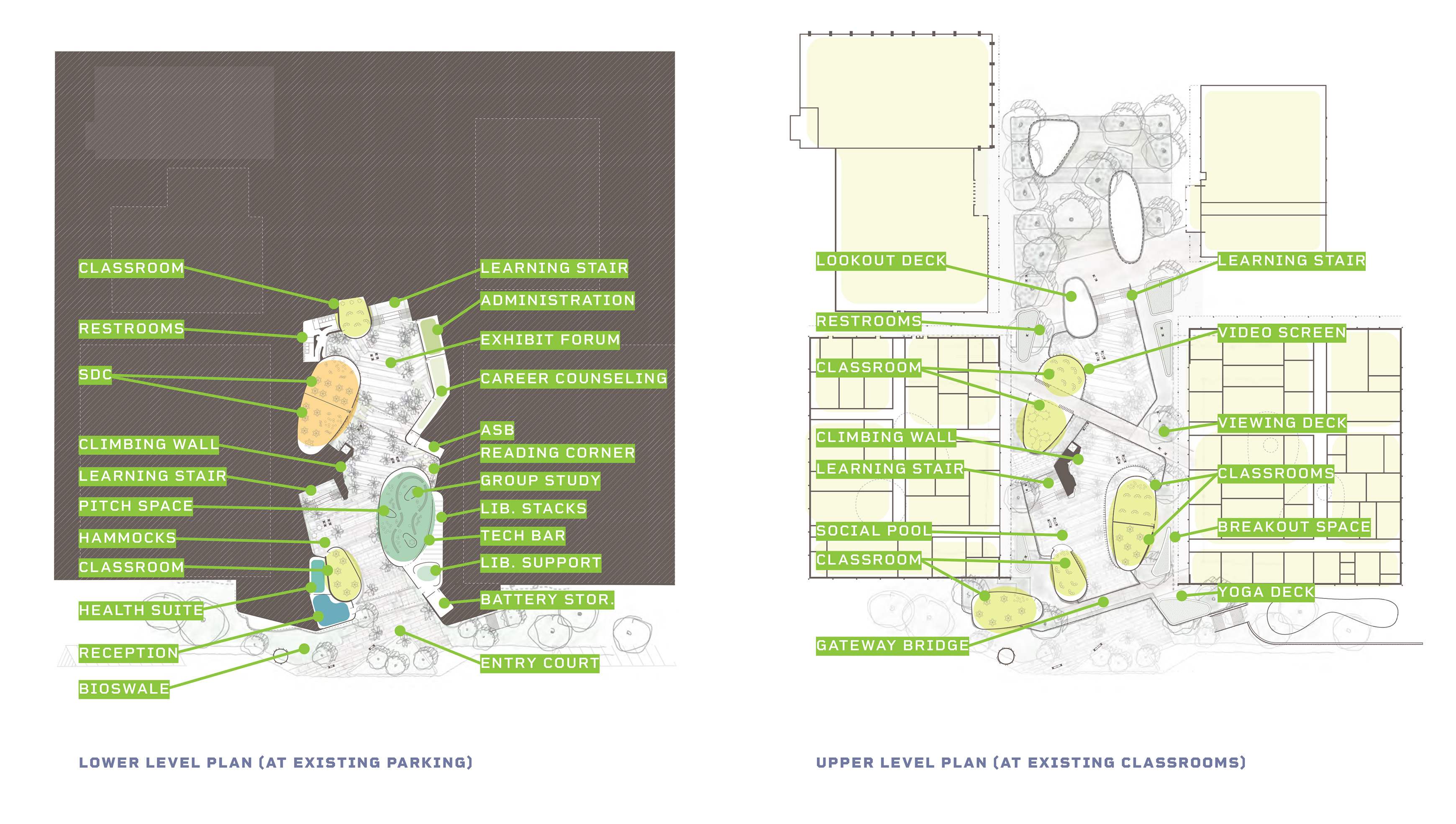 Programming Cowboy Canyon
The 52,000 square feet of additional, nonprogrammed space amplifies the school's identity by establishing a recognizable center. Cowboy Canyon houses spaces for education, breakout sessions, science fairs, group presentations, mobile medical clinics, robotics competitions, yoga, and more. Oval pods devise space for classrooms and the library in a shape where traditional power structures in education are dismantled. These pods are situated to vary the scale of space under the large, open-air roof.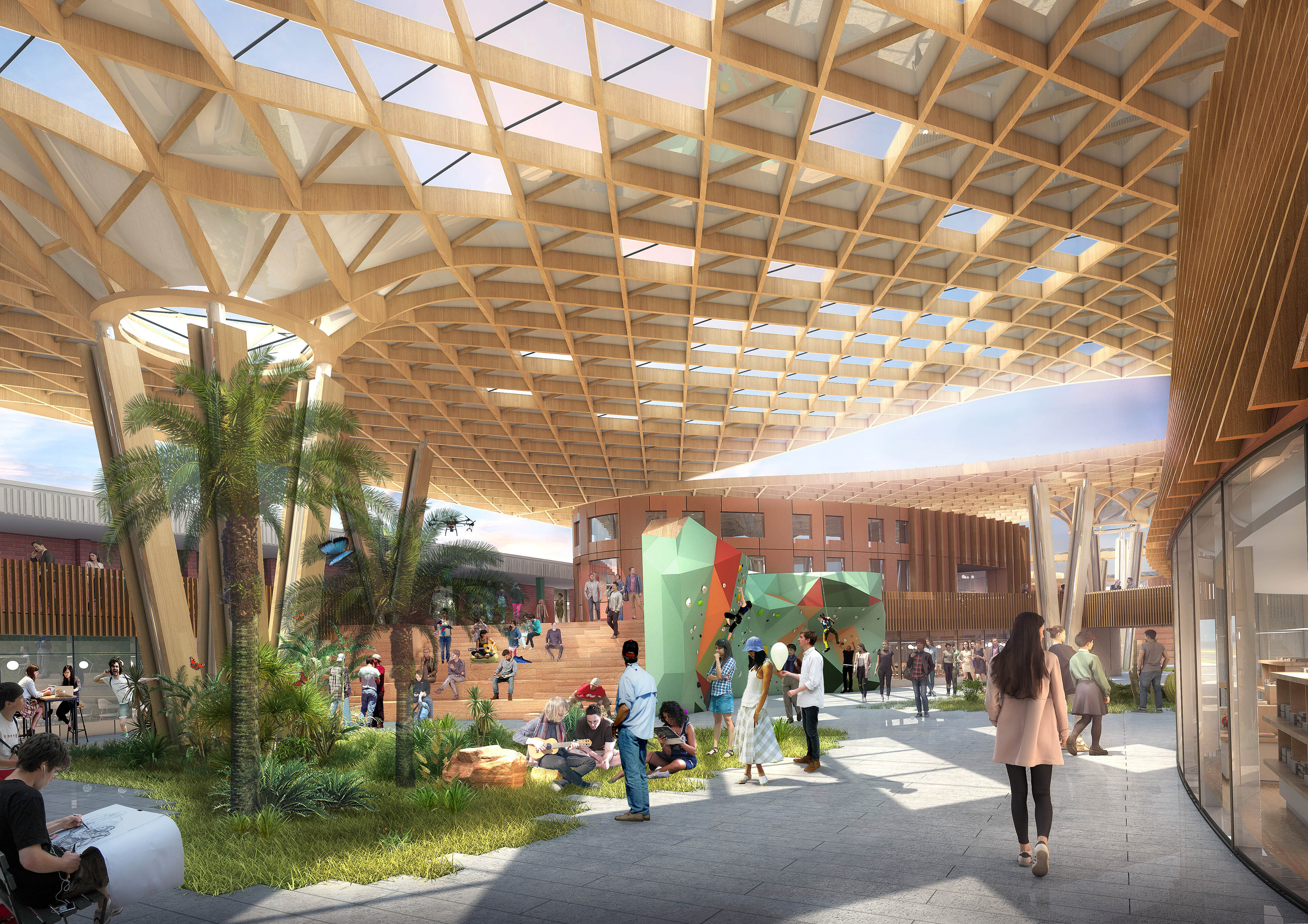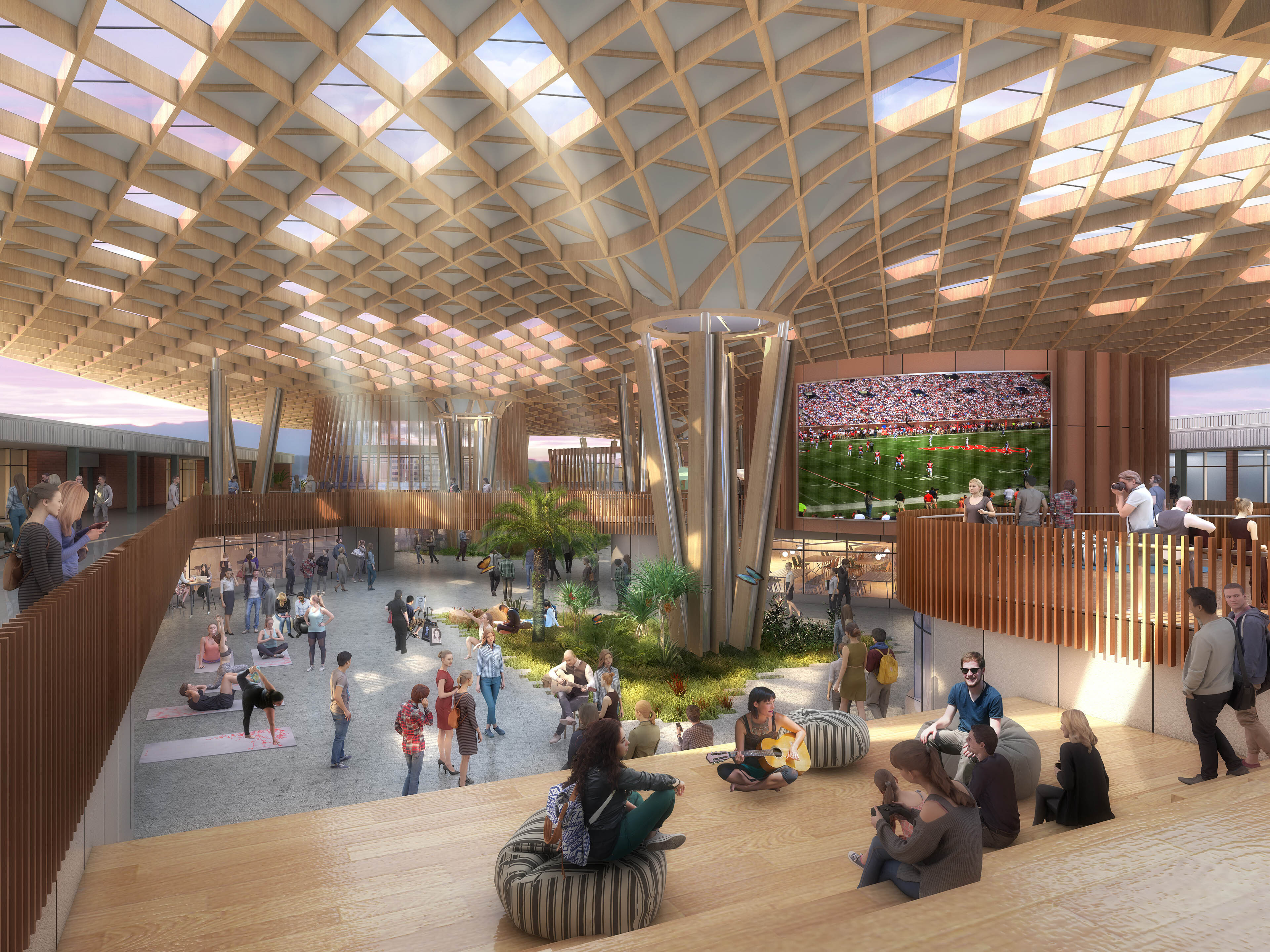 Crafting a campus center
Cowboy Canyon functions similarly to a student union on a college campus, a place to gather between classes, hang out after school, have casual conversations with peers and caring adults, study, snack, and lounge. The collegiate student union fuses support services with the social and academic aspects of education. Introducing an interactive environment where students chart paths, manage time, and problem solve amplifies the pursuit of excellence.
The project's site, at the center of the public entry, invites the chance to redefine the social and academic life of the campus. This location is a confluence of the community, administration, faculty, and student experience. Existing buildings and outdoor environments connect to the site. The natural environment, where water flows downhill and aggregates into tributaries that carve canyons, becomes a metaphor. Offering cooling shade, Cowboy Canyon is a dynamic source of life in the desert.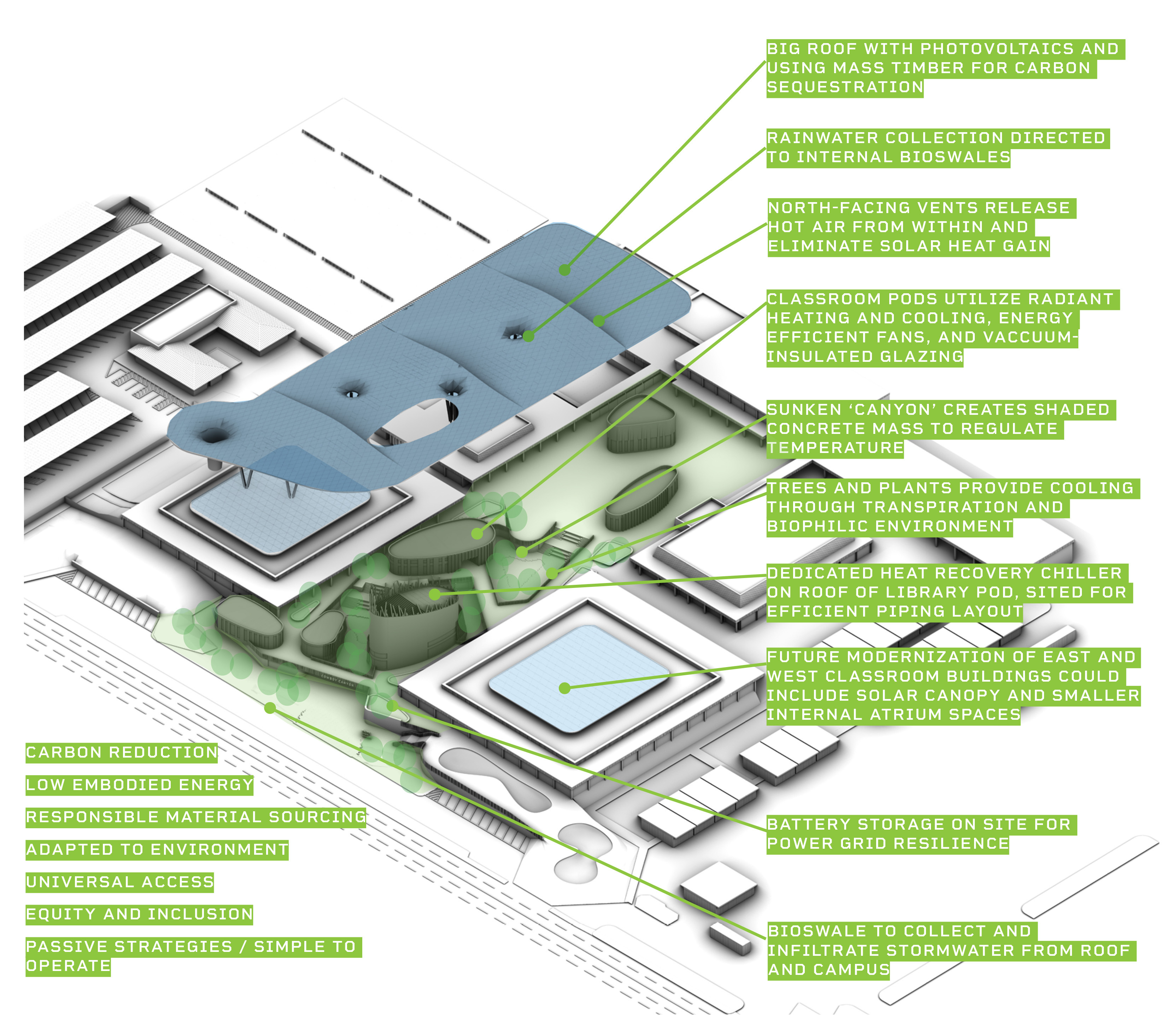 Designing for the local ecosystem
Cajon High School is targeting Net Zero. The open-air roof ensures that heat escapes through north-facing vents. Along with no gas heating and the use of renewable energy, a carbon-neutral project is within reach. Using the Earth's near constant 60-degree temperature when just a few feet underground, the sunken plaza with concrete pavers and concrete retaining walls creates a massive heat sink. At the same time, by planting and irrigating trees and vegetation, the associated transpiration further introduces a localized, comfortable ecosystem. Finally, recognizing the importance of moisture in a dry climate, the roof is shaped to collect water and direct it to vegetated bioswales.
Everything about the sustainable strategies is completely visible. Perhaps more important than the actual approach to this building is the impact the environment can have on the next generation of global citizens emerging from Cajon High School.
Related Projects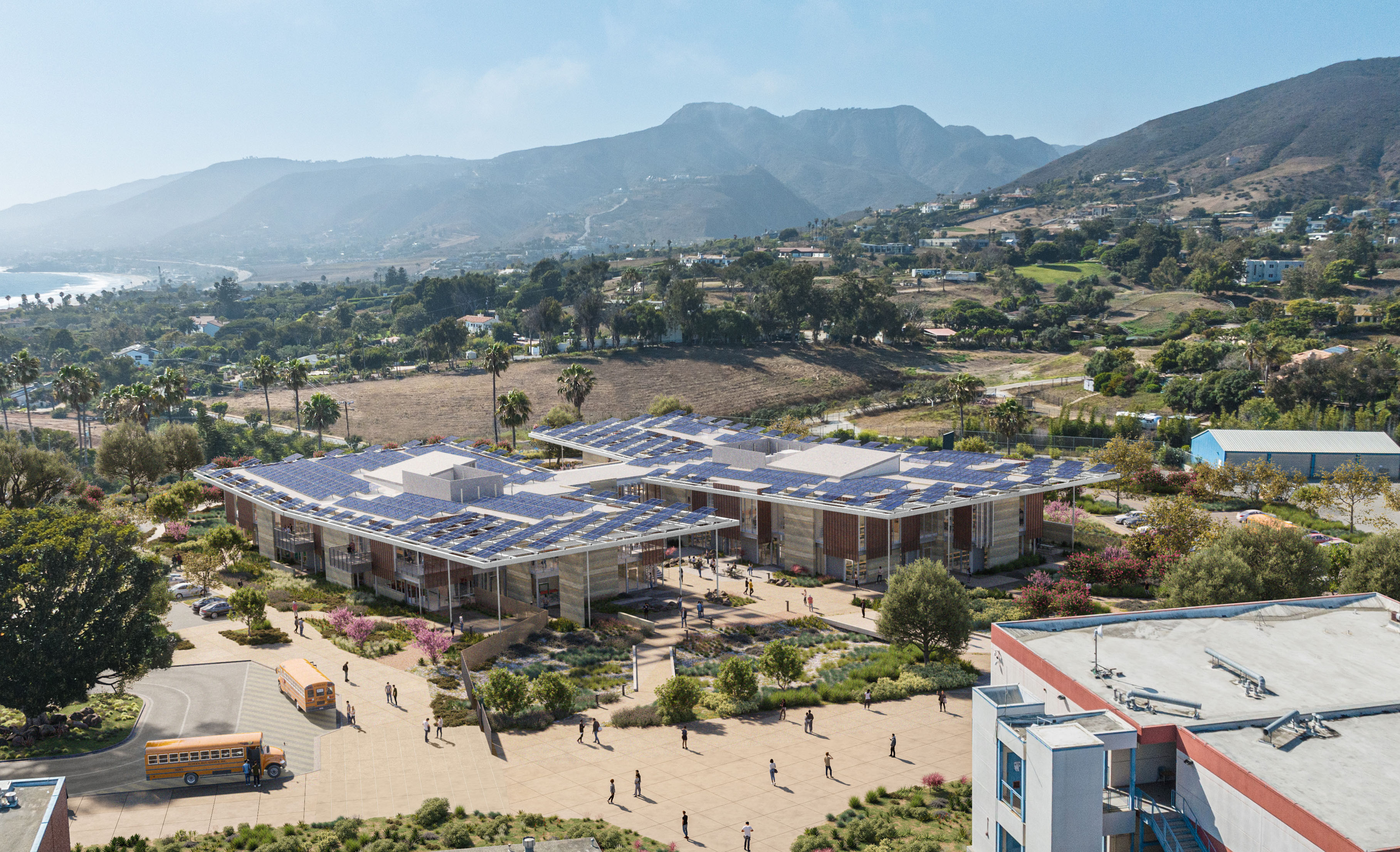 Malibu High School Campus Addition
Santa Monica-Malibu Unified School District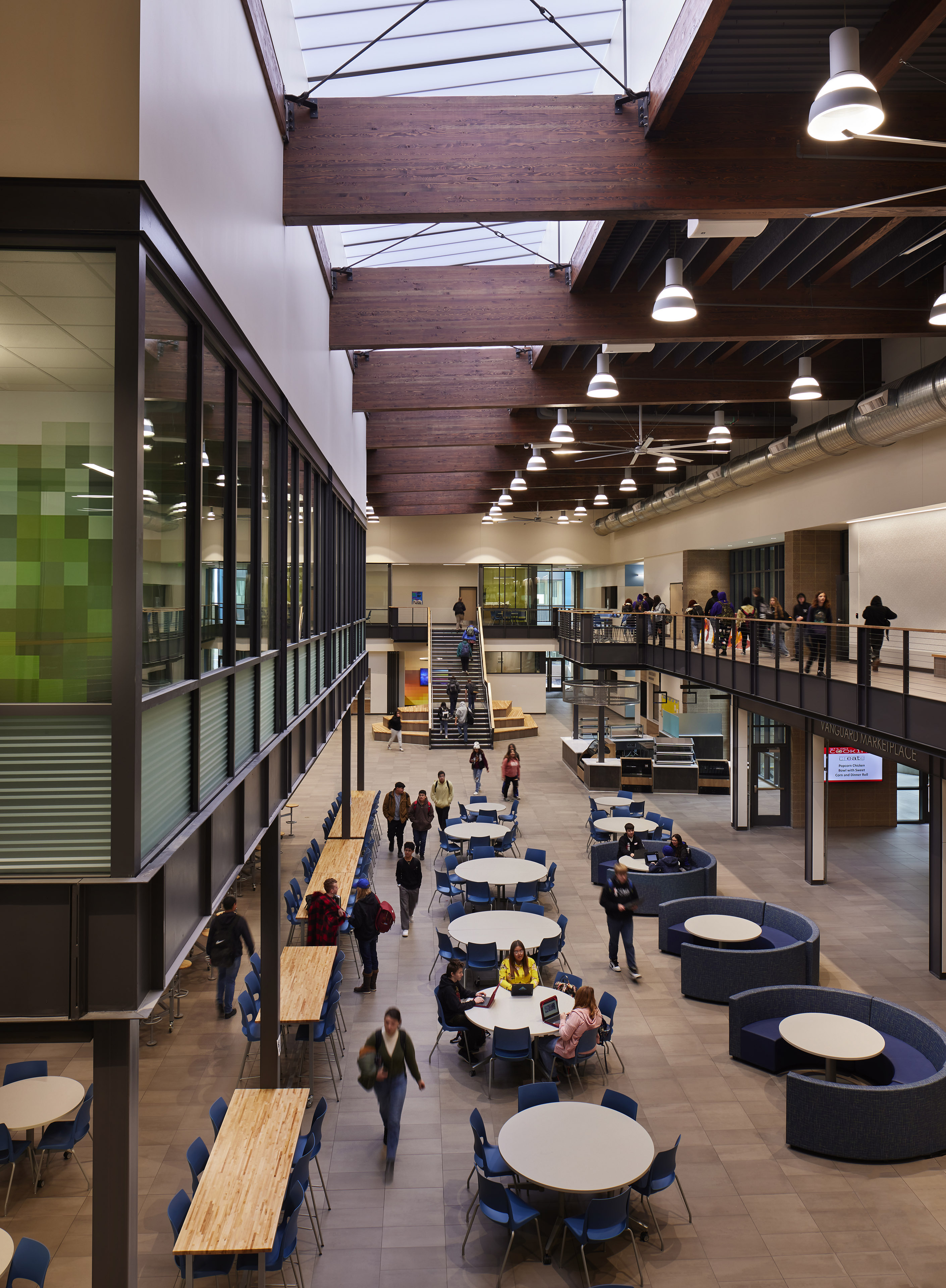 Vanguard High School
Moses Lake School District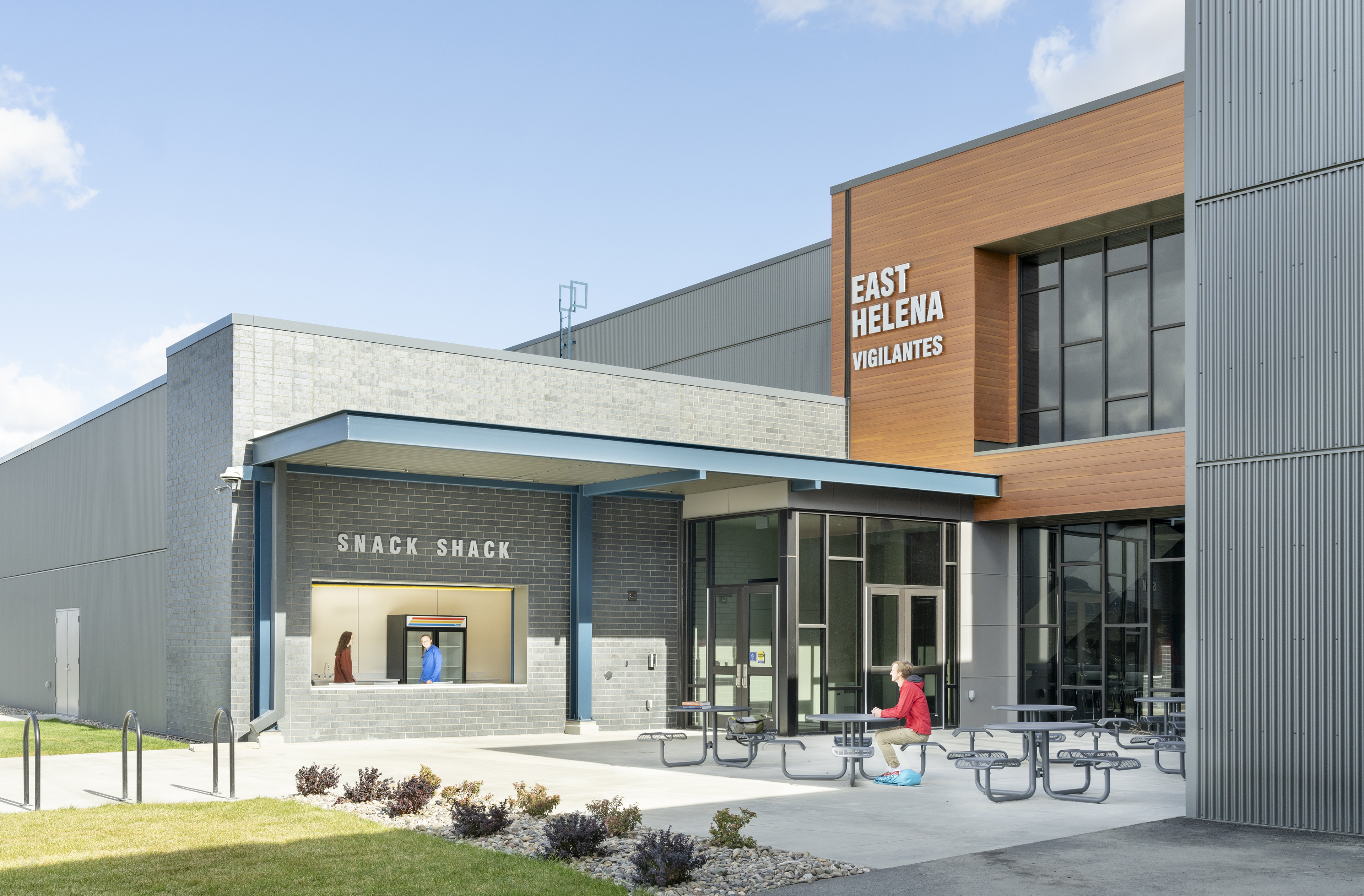 East Helena High School
East Helena Public Schools