Learning / PK-12
Stevens Creek Elementary School
Lake Stevens, Washington
Lake Stevens School District
Awards
2020 Grand Prize, Learning By Design
Located above Lake Stevens, the new Stevens Creek Elementary joins an Early Learning Center to form the second part of an integrated P-5 campus. Inspired by the site's mature forest and steep slope, the design theme of "flow" emerged. Just as water flows from the local watershed to the creek and on to the lake, students will flow through the early learning center, down to the elementary school, middle school, and eventually to the high school. Internal spaces enrich this experience with imagery of water, trees, and other natural elements accompanying students on their journey.
Both facilities demonstrate a new model for educating young children. For the Early Learning Center, gentle, organic curves inherent in nature create shared interior spaces where teachers can collaborate, and learning can occur outside the classroom. These kinds of experiences help to infuse a child's everyday awareness with a sense of fluidity.
Stevens Creek Elementary further accentuates the importance of collaboration, exploration, discovery, and self-directed learning. Multi-use shared spaces, including the Learning Commons and a Maker Space, form the school's heart. Exploration and discovery are celebrated with accessible campus rain gardens and views to the mountains. Self-directed learning is available at every turn with famous quotes scattered throughout the building, native plant signage used for wayfinding, and distribution of a variety breakout spaces. The transparent classrooms connect visually to adjacent shared spaces to encourage teamwork between teachers or students. 
Establishing a sense of place, the entire school integrates aspects of its natural surroundings. The Learning Commons blurs the distinction between indoor and outdoor space with its view to the mountains, light blue wall soffit blending with the sky, and a learning tree made of a wood-slatted wall with green ceiling baffles evoking leaves.
Stevens Creek supports the District's philosophy of responsibility to provide its community with amenities that are not available elsewhere. Stakeholder input was thoughtfully incorporated, such as parents' desire for a drop-off area that fosters an unrushed goodbye and chance for adults to stay and chat. Community use spaces, such as the Learning Stair, Learning Commons, and Makerspace are near the front of the school and conveniently available after hours. The exterior amphitheater and outdoor gardening space offer additional informal or formal opportunities to congregate.
Related Projects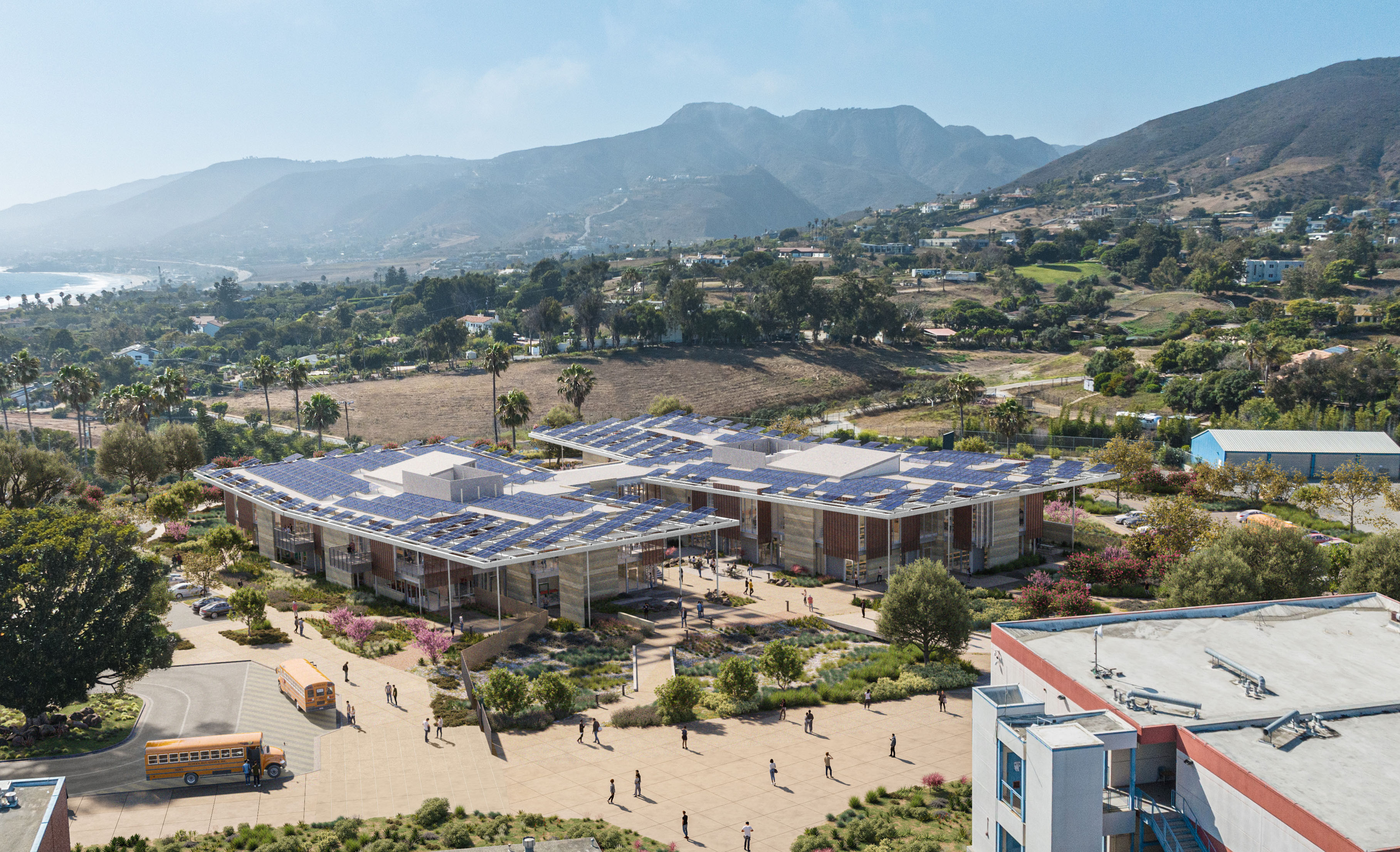 Malibu High School Campus Addition
Santa Monica-Malibu Unified School District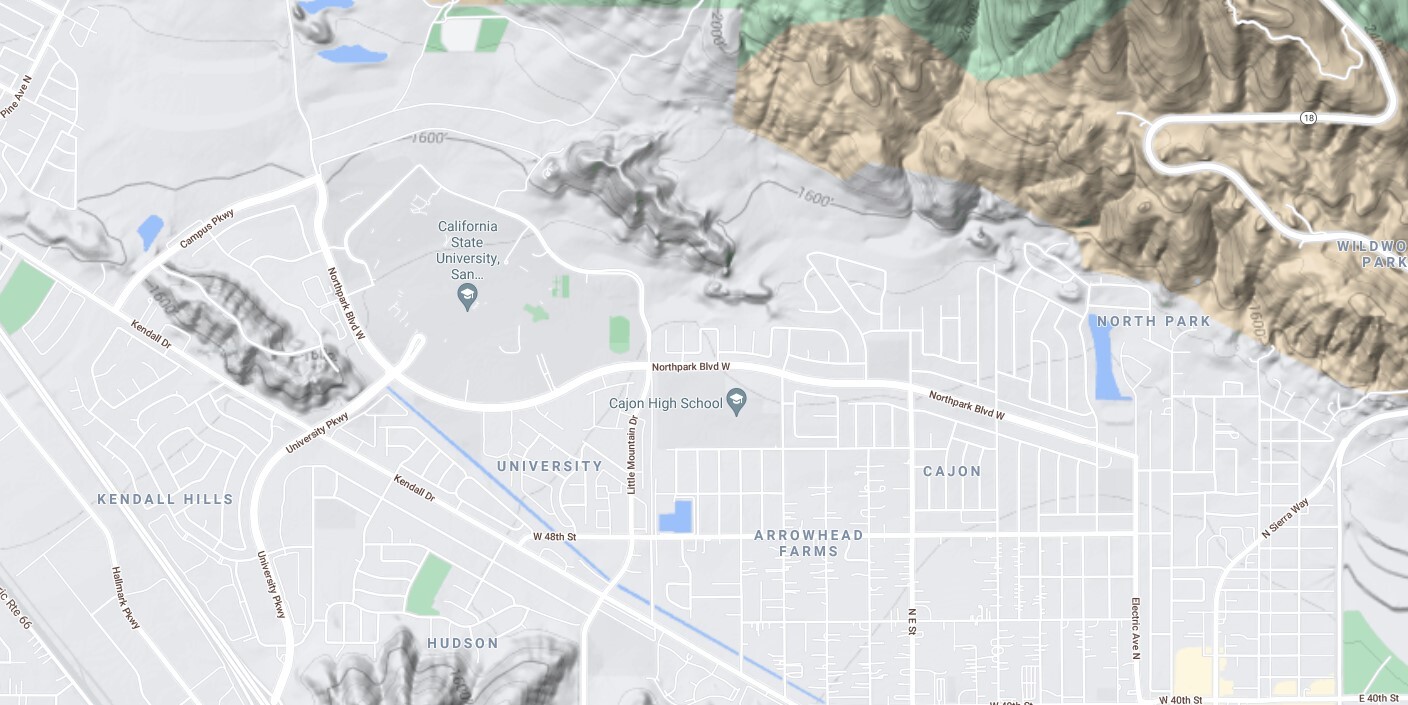 Cajon High School
San Bernardino City Unified School District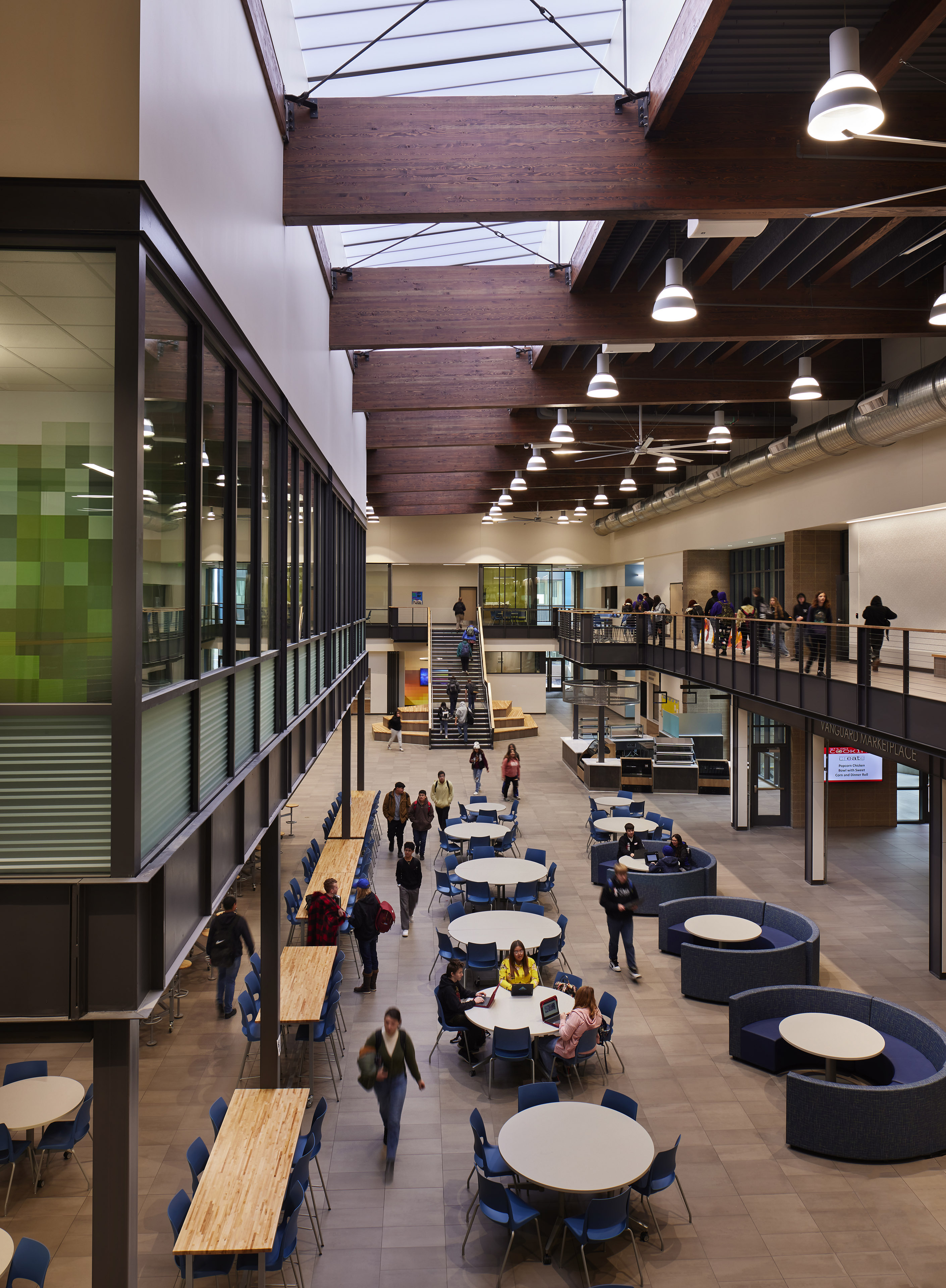 Vanguard High School
Moses Lake School District