2014 News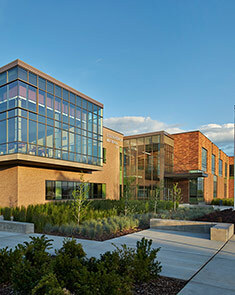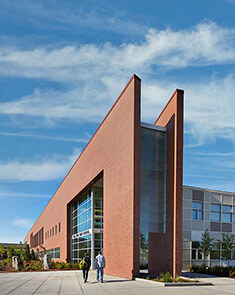 NAC Architecture Wins Two Masonry Institute of Washington AwardsWithin the three Excellence in Masonry Design Awards presented in the K-12 category, Eisenhower High School won the top Honor Award and Bellevue High School won the Bronze Award.

Held every two years, the Masonry Institute of Washington Awards honor outstanding architectural design where masonry products — brick, concrete block, stone, tile and marble — figure prominently into the overall building design. Jury considerations include masonry design quality, environmental harmony, sustainability, aesthetic delight, creativity, craftsmanship and innovation.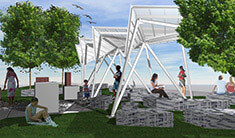 Michael Pinto Featured at Making LA ConferenceNAC Principal Michael Pinto spoke at the Making LA conference about an unbuilt project that he designed with students at the Southern California Institute of Architecture. The project is a bus shelter for a the Glassell Park community, who received a Federal Transportation Authority grant and worked with Michael and the students to design it. The Making LA conference brings together designers and city leaders working to transform Los Angeles, focusing on issues such as water, transportation, density and community, and how designers, architects and artists are making a difference in their neighborhoods. The event will be held at the historic Los Angeles River Center and Gardens in Cypress Park.Read more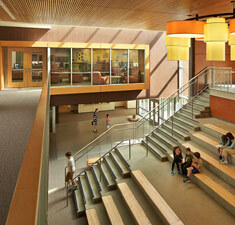 Cherry Crest Elementary School Selected for Grand PrizeCherry Crest Elementary School received a Grand Prize in the Fall 2014 edition of The American School Board Journal's Learning By Design Awards publication. The design of the school in Bellevue, Washington, provides ample opportunities for teachers to expand the environmental curriculum and infuse students' daily experience with an inspiring understanding of the natural surroundings.

One juror called attention to the Learning Stairs, which are an informal hub for social and educational gatherings. They are used for large grade-level gatherings and presentations, PTSA events, impromptu teacher and parent meetings as well as for small group or individual use. "This is a spectacular project that is beautifully and consistently detailed and has pleasing varied spaces for a variety of learning situations."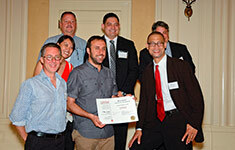 Fenton Primary Center Recognized by AIA Pasadena & FoothillThe Fenton Primary Center received a Merit Award at the AIA Pasadena & Foothill 2014 Design Awards which recognizes design excellence and innovation. Located in Pacoima, California, the Fenton Primary Center is a school with big aspirations on a small site. The project is extremely modest in materials and architectural flourish but is strategic in the deployment of a few carefully conditioned moves that maximize the functionality and uniqueness of this compact project.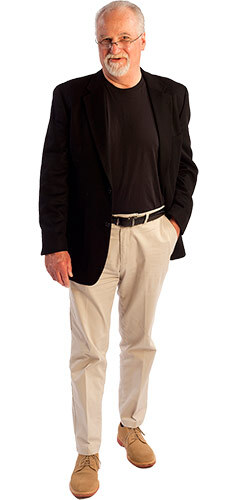 Doug Hyde Joins NAC Architecture as Consulting Principal"One of the most respected architects in the higher education world," Douglas Hyde has joined with NAC Architecture as a Consulting Principal. With over 30 years of experience and a resume of over 40 college and university projects, Doug believes in a strong team approach where ideas are welcome and contribution is key. His work has been published in American School and University, School Business Affairs and Planning for Higher Education, and he has lectured on trends in student housing at the American College and University Housing Officers International Annual Conferences."The addition of Doug's knowledge and expertise will significantly advance our national reputation in student housing design. Doug will also strengthen NAC's other higher education specialties, particularly general academic and science facilities."
Dana Harbaugh, CEO"Since joining NAC Architecture, I have been impressed with the passion that the leadership and staff have for the design of spaces for people; buildings that will be lasting contributions to the environments in which they are placed."
Doug Hyde, PrincipalDoug earned his Bachelor of Architecture and Bachelor of Arts in Art degrees from Montana State University. Before joining NAC Architecture Doug was Director of College and University Design for JCJ Architecture and Director of the Boston office. Prior to JCJ, he was Project Executive /Design Principal for Einhorn Yaffee Prescott PC in Albany, New York.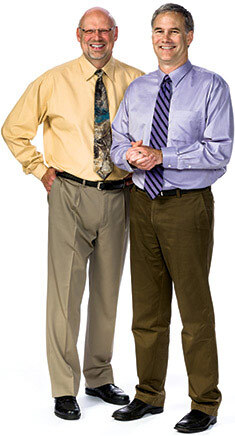 NAC Architecture Announces Leadership ProgressionNAC Architecture's next step in its leadership progression plan positions Dana Harbaugh, AIA as President and CEO of NAC and Bruce Blackmer, FAIA as Chairman of the Board."Dana is a passionate design provocateur and in his prior role of Chief Practice Officer, focused on raising our quality of design, client advocacy and project delivery" explains Blackmer. "As a 20 year veteran in our culture of integrating clients into our uniquely participatory design process, Dana leads by example." Dana continues his leadership role on a diverse mix of projects such as Rockwood Retirement Community's Summit Tower, Montana State University's Student Housing Expansion and North Central High School's STEM Addition.During Blackmer's 11 years as CEO, NAC's organizational structure was redesigned, offices were added in California and Colorado, and the firm rose to Architect Magazine's Top 50 firms in the United States. Harbaugh noted that "We will continue to benefit from Bruce's breadth of expertise in organizational structure and strategic expansion to grow NAC's reach. Bruce's continued leadership allows me to stay deeply engaged in delivering our services."These leadership role transitions further demonstrate NAC Architecture's commitment to continuity and the teamwork needed to deliver national talent through professionals within the local communities we serve from a network of offices in the western United States. NAC Architecture creates innovative environments for learning, healing and human development.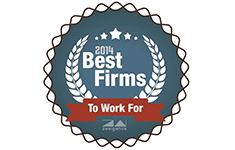 NAC Architecture Recognized as One of Top Four Places to Work Among Architects NationwideNAC Architecture has been named the #4 "Best Architecture Firm To Work For" in the U.S. for 2014 by ZweigWhite, a national management consulting and research firm. The annual list, on which NAC Architecture has previously been included, identifies outstanding employers based on their commitment to provide a positive work environment and challenging and interesting work opportunities for their staff members. The ranking is based on the results of a comprehensive survey of workplace practices and an independent survey of employees.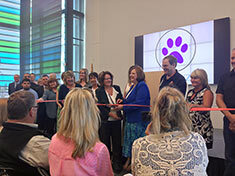 Grand Opening: Columbia Basin Technical Skills CenterAbout 550 people attended the ribbon cutting ceremony at the Columbia Basin Technical Skills Center grand opening in Moses Lake, Washington. Summer session students demonstrated their projects in computer programming, engineering, welding, culinary arts and other programs.

The 43,570 square-foot facility serves about 300 high school students from 10 school districts, and classes for the 2014-15 school year are almost full.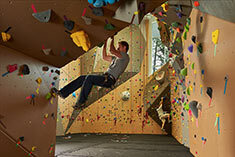 Whitworth University Recreation Center FeaturedWhitworth University Recreation Center has been published in Athletic Business magazine and will be entered in the 2014 Facility of Merit Awards. Winners will be announced in the November issue of the magazine.Read more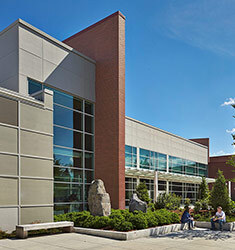 Bellevue High School HonoredThe American Institute of Architects Washington Council presented a Civic Design Citation to Bellevue High School at their annual awards program on May 8. This program honors contributions to great public design.

The design of the new Bellevue High School, in Bellevue, Washington, celebrates sustainability through harmony with nature. The new entry icon sets this tone, as a cascading waterfall of roof water spills into a rain garden between two planes of red brick masonry. The red brick, as well as the recycled sculpture in the glass lobby, are in deference to the school it has replaced. The design is intended to adapt to a variety of learning models in the future. The science classrooms can be zoned either vertically or horizontally to create separate clusters of science pods. As such, the school can be adapted to a school-within-a school model, an academy model, or other innovative learning delivery approaches.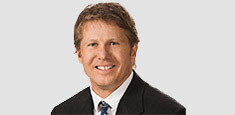 Staff AdvancementsKeith Comes, AIA, LEED AP, has been named Managing Principal in NAC Architecture's Spokane office.

Additional staff advancements: Dan Kurtz and Melissa McFadgen to Princpal; Rob Paradiso to Senior Associate; Angela Bishop and Brian Love to Associate.Read more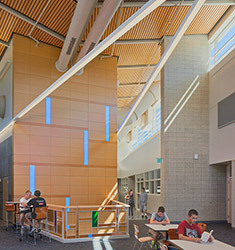 Renton Secondary Learning Center Wins Grand PrizeThe Spring 2014 edition of The American School Board Journal's Learning By Design Awards honored NAC's design of the Renton Secondary Learning Center with a Grand Prize. The Secondary Learning Center in Renton, Washington, is an alternative grades 7-12 school designed as an integrated, project-based learning environment that allows learners to develop at their most effective pace.

The jury praised the use of the building itself as a learning tool, noting the clear plan with effective adjacencies and visual and physical student/teacher communication throughout. One juror called the building, "interesting and innovative, with an effective use of color for wayfinding, as well as serious environmental features," including photovoltaic panels, solar hot-water heating, displacement ventilation and radiant heat, rainwater harvesting and non-potable dual-flush toilets, and a ground-source heat pump.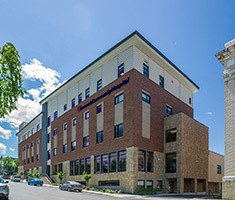 Benewah Community Hospital Wins Two Construction AwardsThe new Benewah Community Hospital tower and emergency room expansion located in St. Maries, Idaho, has won two Associated Builders and Contractors (ABC) awards. Contractor Robins & Morton, who completed the hospital in a joint-venture partnership with Polin and Young of Coeur d'Alene, Idaho, was recognized in the ABC Alabama Chapter ceremony with a merit award in the Healthcare $10 to $25 million category. The project, designed by NAC Architecture, also won the top honor of an Eagle award in the same category from the Mid-Tennessee ABC Chapter. The ABC Excellence in Construction awards recognize outstanding construction projects across the United States. The winning teams and projects represent the best of the best for safety, quality, teamwork, planning and innovation.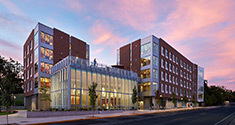 WSU Northside Residence Hall wins AGC AwardThe Inland Northwest Associated General Contractors of America (AGC) recognized the Northside Residence Hall at Washington State University in Pullman, Washington, with a Build Northwest Award. Winners were selected based on project uniqueness, innovation and overall job excellence, among other criteria. Congratulations to Graham Construction & Management and the entire design and construction team.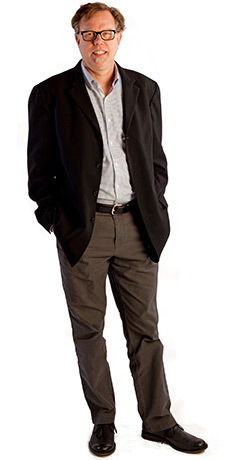 Ron van der Veen Joins NAC Architecture as PrincipalRon van der Veen, AIA, LEED AP, has joined NAC Architecture as Principal Architect. He has provided design leadership for innovative, award-winning projects across the United States, with emphasis on higher education facilities, student housing and sustainability. Ron has 29 years of experience in architecture and is a LEED Accredited Professional. At NAC Architecture, he will lead higher education and student housing projects and provide specialized expertise throughout all NAC Architecture offices.Ron is a founding board member for the Association for the Advancement of Sustainability in Higher Education (AASHE), and was an active member of AASHE's development committee in the creation of the Sustainability Tracking, Assessment and Rating System (STARS) for College campuses. He has conducted presentations nationally on green design topics such as Biophilia, high performance buildings and sustainable master planning."NAC Architecture is extremely fortunate to have Ron join our team, and I'm elated about our future together," says Dana Harbaugh, Principal with NAC Architecture. "His sheer talent, specialized knowledge, and astounding portfolio will be of tremendous benefit to clients. Furthermore, Ron is a collaborative, passionate designer with whom our clients will enjoy working."Ron earned his Bachelor of Architecture from the University of Oregon in 1981, before continuing his studies in Santiago de Compostela, Spain. Prior to joining NAC Architecture Ron was a principal at DLR Group and a partner at Mithun. He is also a regular columnist for ARCADE magazine, an artist and the drummer for a local Seattle rock band.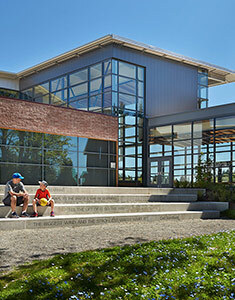 Carl Sandburg Elementary School FeaturedArchitectural Record's January 2014 K-12 Schools Building Types Study features Carl Sandburg Elementary School in Kirkland, Washington. Designed by NAC Architecture and completed in 2012, the 66,580 square-foot replacement school was planned and built on a fully occupied site. The environmental commitment of the school is celebrated on the exterior façade with a 10kW photovoltaic array that is integrated with steel sun-shading elements on the south and east facades.

With a focus on preserving and enhancing the park-like feel of the site, Carl Sandburg Elementary School creates various opportunities for indoor/outdoor learning environments. Most of the classroom neighborhoods are focused on a grove of 70-year-old Bigleaf maples, with multiple outdoor learning spaces. Each three- to four-classroom neighborhood is organized around an open shared learning area, small group rooms, and teacher planning areas. Transparency between spaces expands the classroom, allowing small and large group activities to occur in the adjacent shared areas. This arrangement encourages the development of numerous 21st Century skills enabling students to work alone, collaborate, work on projects, and make presentations.Read more